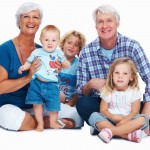 The privilege of being a grandparent frequently is called "the frosting on the cake" after raising our own children. Grandmothers used to carry "Grandma's Brag Books" with pictures but now day's grandparents have their cell phones full of pictures of their grandchildren, ready to share if anyone will ask.
 Along with the gift, God has given grandparents a responsibility to imprint a child's life with His faithfulness. Since our world is in moral and spiritual decline, the enemy is trying to steal their faith; we are in a battle for the minds and hearts of our dear grandchildren. In addition to trying to destroy their faith, the enemy is trying to destroy the morals of our country, especially the family unit.
However, prayer is the best weapon in our cultural and spiritual battle. Esther stood in the gap for her people, the Israelites, when their lives were threatened. Today, grandparents can stand in the gap with prayer for their grandchildren and their parents so they do not become victims of our culture.
 I often do not know how to pray for my grandchildren because I don't know their needs, especially since I am a long distance grandmother for some of them. However, in Romans 8:26, 27 I have learned that the Holy Spirit intercedes for me when I don't know exactly what or how to pray for my grandchildren. The Holy Spirit knows their needs, so I ask him to intercede for me according to His will. I feel blessed to know I can put my concerns in God's hands instead of carrying them myself and it keeps me from telling God how to answer my prayer. Often, my prayers are not answered on my timetable, but in the waiting God does amazing things in my heart. Asking the Holy Spirit to make intercession for me according to God's will has given me new meaning in praying for my family and myself.
 Grandparents, I want to encourage you to ask the Holy Spirit to make intercession for you as you pray for your grandchildren when you don't know their specific needs.
 By Lillian Penner