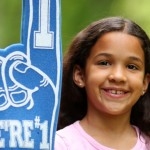 Grandparents can be great encouragers or cheerleaders when their grandchildren get  discouraged, lack self-confidence and low self-esteem. They often face lots of homework, activities, disappointments, challenges, and fears. Encouragement is inspiring another person with hope, courage, or confidence. It literally means 'to give courage to' a person, to reassure them, spur them on, support their efforts to succeed. A definition for a cheerleader is to be an uncritical enthusiastic supporter.
 One of the most valuable blessings that we can give our grandchildren is to be their cheerleader. Their enthusiasm and energy levels are low, and emotional batteries may be drained if they are discouraged and don't feel good about themselves. They tend to focus on their discouragement rather than the encouraging promises of the Lord.
 When my grandchildren were younger, they loved to watch the Gaither children's video "I'm Something Special." I especially liked the words in the song "I am a promise, a possibility, a potentiality, I can be what God wants me to be,"¹ Let's pray for our grandchildren to understand that they are a promise, a possibility and a potentiality under construction.
 As grandparents, let's be their cheerleaders encouraging them with positive words
such as:
"Keep up the great work!"
"I admire your persistence."
"I know you can do it."
 "You've put a lot of work into this, and it shows."
"I want you to overcome! I want you to succeed."
Encouragement is always a welcomed gift.
 ¹ YouTube, "I am a Promise" (A good video for children)
By Lillian Penner