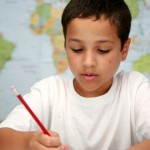 Reminder:  On Saturday, April 14 an international coalition of one-million Christians, known as the 4/14 Window Movement, will partner together in prayer on six continents for Global 4/14 Day. They will be praying specifically for children in the "4/14 Window."
The 4/14 Window refers to all children between the ages of 4 to 14. During this decade or "window," most children in this demographic develop their moral and spiritual foundations.
There are 2.3 billion children on earth under age 15 and they represent the largest unreached group (to Christianity) in the world. Boys and girls in the 4/14 Window are given priority by evangelical mission strategists because they are more open and receptive to the gospel than older youth and adults. Research shows that nearly 85% of individuals who make a decision for Christ in theUnited States do so between the ages of 4 to 14. Christian missionaries serving around the world report similar results.
Will you get involved with the International Day of Prayer and Fasting for the 2.3 billion children on earth between the ages of 4 to 14 years, on the Global 4/14 Day of Prayer, Saturday, April 14?
For more information on Global 4/14 Day, visit www.Global414Day.com
By Lillian Penner