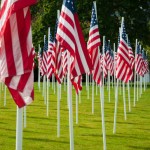 On May 28 is Memorial Day we will celebrate Memorial Day in the United States. Memorial Day honors U.S. men and women who died while in military service to their country. This year as we celebrate Memorial Day, let's pray for the many families they have left behind who miss their loved ones.
As of May 16, at least 1,846 of the military have died since the start of theAfghanistanwar on October 7, 2001 and related operations according to The Associated Press. Many fathers, mothers, sons, daughter, grandsons, granddaughters, aunts, uncles, cousins, and friends are mourning their loved ones.
 PRAY FOR:
The loved ones of those who made the ultimate sacrifice for our freedom.
The loved ones to have courage to face each day.
Our armed service men and women to be covered with God's sheltering grace and presence as they stand in the gap for our protection.
The wounded warriors who have served in the military service.
The grandparents who are reaching out to their grandchildren who have lost their parents in the military service.
Have a great Memorial Day as you celebrate the freedoms that we have in the U.S.A.