During this Thanksgiving and Christmas season, many grandparents will have the privilege to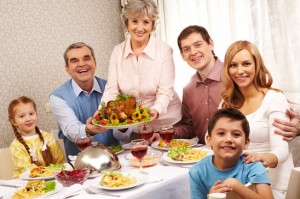 spend time with their children and grandchildren. It is always a special time to celebrate these holidays with the family reminiscing, sharing current family activity, along with enjoying the delicious food.
Just as Moses told the Israelites to be careful not to forget the things they had seen God do
for them and pass those things on to their children and grandchildren according
to Deuteronomy 4:9. We too are to pass on our stories of God's faithfulness to our families. Thanksgiving is a good time for us to share and encourage the family to share about God's faithfulness to us throughout the past year.
As we reminisce and visit with your children and grandchildren at Thanksgiving let's be sensitive to opportunities we might have to share how God has blessed us in our journey of life. Our lives influence and affect our families one-way or other. You may be the only Jesus your grandchildren will see.
As grandparents, let's ask ourselves,
"Does God's love reflect from my life to my children and
grandchildren like a mountain lake reflects what's beyond it?
Do they see Jesus in me?"
Do I have a positive or negative influence
on my grandchildren?
Prayer
Dear Father, my desire is to abide in you,
live my life so my grandchildren will see Jesus in me.
Help me to be a godly example as I am
writing my story.
I want the story of my life to bear fruit
and glorify you.
In Jesus' name. Amen. 
Share with other grandparents how you are sharing the story of your life with your family below in the comments.
If this blog has been meaningful to you, email it to a friend or share it on your Facebook page.