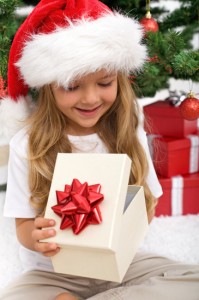 A couple of weeks ago I asked the readers to share a Christmas memory. Today, I am featuring a Christmas memory shared by a friend, Barbara Prichard
Each year during our families Christmas celebration, my grandson reads the story of Christ's birth in Luke 2, before we open our gifts. The older grandchildren hold the smaller ones in their laps hugging them throughout the reading of God's word while everyone around him is as quiet as a church mouse.
Every time he reads Luke 2, I am always taken back to my own childhood when my family gathered around the lighted pine tree to receive our gifts. Four little girls dropped to their knees before neatly wrapped gifts anxiously awaiting permission to open their first gift, as the lights twinkled and Bing Crosby sang Christmas songs on the record player. I cherish those memories of sitting around my grandmother's tree with all my sisters while feeling my little heart pound in my chest in anticipation. I can almost smell the pine tree, the turkey roasting in the oven, and the apple cider warming on the stove. It makes my mouth water when I think of the pumpkin pie with whipped cream as it did all those Christmas days so long ago.
We were instructed to thank the giver as we opened our gifts, no matter how large or small the gift. Long after those gifts were opened and the years have passed, the instruction to be thankful has served me on many occasions.
Now as I reflect on Christmas I truly realize Jesus Christ is the greatest gift of all. I pray my grandchildren will be aware of why we celebrate Christmas when God sent His only son to be our Savior. I also pray I can emphasize the importance of Christ's birth to all who call on the name of the Lord to be saved.
Does your heart pound for our Lord and Savior in anticipation of His return?
My prayer for you is that each of you will have a glorious Christmas and each of your grandchildren is aware of Jesus, God's gift. May our Lord and Savior be the biggest emphasis of your Christmas?
God bless you.
Guest blogger: Barbara Prichard, an Oklahoma native is married with six children, ten grandchildren, and three
great grandchildren. She leads a Grandparent in Prayer (G@P) group at Southern Hills Baptist Church, Oklahoma City, OK. She also serves on the Prayer Task force for Christian Grandparenting Network. Barbara earned a Bachelor of Science Degree in Education from Northeastern Oklahoma State University and
Master of Education degree from the University of Oklahoma. 
Barbara, a reading specialist, taught reading from first grade through master level students until she retired in
2011. She now enjoys her family, reading, and writing. Her passion is prayer as she seeks God's direction in her life