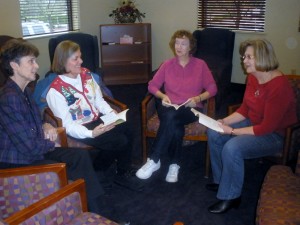 I would like to share with you about the Grandparents @ Prayer (G@P) intercessory prayer group in Beaverton, Oregon in which I participate. We meet the second Tuesday afternoon for about 90 minutes each month in a nearby church.
When we started, there were several women but then several dropped out and only two of us met for probably a year. Then finally, several others joined us and now we have four to six grandmothers attending regularly from various churches. We have bonded into a close relationship since we have a common purpose of intentionally praying for our grandchildren to experience the reality of God's love and to live the adventure of following Jesus Christ.
We start by sharing our answers to prayer, which is always a joyous time to hear how God is working in the lives of our families. Then we have a brief devotional to guide our prayer time after which we spend time uniting in prayer. I didn't know any of these grandmothers before we started and I feel like God has given me some wonderful prayer partners and friends. It is a place where grandmothers can feel comfortable sharing the challenging issues their families are facing. Some of their grandchildren have been involved in some very difficult circumstances.
However, we have had some amazing answers to prayer, which has increased our faith and confidence in praying for our families. We prayed for jobs for family members and employmentopportunities came. We prayed for wisdom and grace for family relationships and the Lord answered our prayers.
I would like to share comments from two grandmothers.
Mardie shares
Our G@P group is a wonderful support for me. It has been so nice to get to know other praying grandparents and to hear and share our stories and to know we are not alone. What a precious gift it is to pray for each other, to know they are lifting my grandchildren up in prayer and share in each other's victories and answers to prayer.
Linda shares:
My G@P group is such a top priority for me that I don't want to miss a single meeting. It has been a tremendous encouragement and a source of comfort and strength to share my burdens for my grandchildren and to have others lift the needs of my family in prayer. My daughters have expressed their gratitude to know that others are praying for her children.
I thank the Lord for this G@P ministry, which is making a difference in so many lives. You too, can be a part of a G@P group standing in the GAP with prayer for your grandchildren and their parents by going to http://www.grandparentingwithapurpose.com/gap/.