Why is there a Grandparents @ Prayer Movement (G@P)? We are living in challenging times both morally and spiritually, especially for our grandchildren. A media-driven culture has desensitized our grandchildren and pushed the boundaries of a Christ-like lifestyle.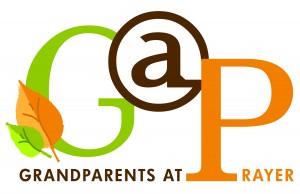 It is crucial for grandparents to unite in prayer for the hearts and minds of our grandchildren to keep them from falling captive to the enemy's deception and lies. We are engaged in a spiritual battle that requires the spiritual weapon of prayer.
That is why Christian Grandparenting Network has formed "Grandparents@ Prayer", (G@P) intercessory prayer groups. Giving grandparents opportunity to unite in prayer for each other's grandchildren and families.
Purpose: To call grandparents around the world to intentionally and regularly come together to pray and intercede for their grandchildren, children, and communities.
Goal: Encourage and provide resources for grandparents to be prayer warriors for their grandchildren through the personal discipline of intercessory prayer in the battle against the enemy.
Structure: G @ P consists of small or large groups of people meeting once or twice a month at a designated location for an hour to an hour and a half for guided prayer and fellowship.
I experienced, firsthand, the impact my prayers can have when I received a letter from my oldest granddaughter in which she wrote:
"Your phone calls, cards, and emails were encouraging and made a significant impact on my life, especially in my teenage and college years. Your prayers and encouragement have been rock-solid reminders of God's truth in my incredible, crazy life-shaping years, and now in my married life. Your prayers help me surrender the craziness of my life to God."
January is a time when we look ahead and plan for the New Year so here is the challenge I am laying before you to consider for this new year. Will you take up the call to start or participate in a G@P group in your area? Invite other grandparents in your area to join you in the building of a G@P group to intercede for the next generations. My husband and I participate in a G@P group and find it a blessing to pray with other grandparents. Many participants say it is a safe place to share their concerns for their families.
Check out the current locations, read the testimonials, and free downloads of how to pray for your grandchildren or your G@P group go to
http://www.christiangrandparenting.net/prayer/grandparents-prayer/introduction-to-g-p or email me at lpenner@christiangrandparenting.net for additional information. If you enjoy this blog, will you  send  it on your facebook friends?
__________________________________________________
Pray your grandchildren will know the adventure of a full, abundant, purposeful, and fruitful life in Jesus Christ.
______________________________
"I have not greater joy than to hear that my children (grandchildren)
are walking with the Lord" (3 John 1:4).