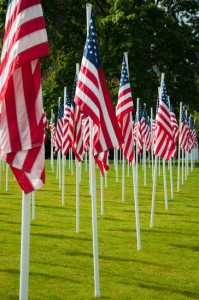 In the United States, Memorial Day commemorates the men and women who died while in military service to their country. As we celebrate Memorial Day, let's pray for the families they have left behind. Many families are mourning the loss of their loved ones who died in the service.
On TV yesterday I was reminded again about the wounded warriors as I saw a young girl supporting her father to help him walk. Let's pray for the wounded warriors and their families. Also remember the children of the parents who are deployed at this time.
We read in Galatians 6:2 that we are to carry each others burdens/problems.
Here are a few suggestions of how to pray:
Grandparents  who have lost their grandchildren in the military service.
Grandparents who are reaching out to their grandchildren who have lost a parent in the military service.
The loved ones of those who made the ultimate sacrifice for our freedom.
Our armed service men and women to be covered with God's sheltering grace and presence as they stand in the gap for our protection.
Activity to do with grandchildren:
In some cemeteries, they place a flag at the grave of all the soldiers who have died in the war. Take the grandchildren on a drive through the cemetery to see all the flags.
Have a great day celebrating with your families.