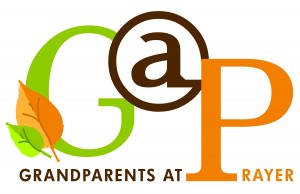 During our promotion of the Grandparents' Day of Prayer, many people have indicated an interested in starting a Grandparents@Prayer prayer group. They see the need to continue upholding their grandchildren with prayer in our troubled world, where a godly lifestyle is challenged, especially as they go back to school.
You may ask what is a Grandparents@Prayer (G@P) prayer group.
The purpose is to call grandparents around the world to intentionally and regularly gather to intercede in prayer for their grandchildren, children and communities.
The goal is to encourage and provide resources that help grandparents become intentional prayer warriors on behalf of their grandchildren through personal discipline of intercessory prayer in the battle against the      enemy.
G@P groups consist of small or large groups of people meeting once or twice a month for approximately one hour at a designated location for guided prayer and fellowship.
As grandparents, we can make a difference in the world by praying regularly and deliberately for our grandchildren and their parents. It is our responsibility to powerfully touch the lives of another generation for eternity through prayer.
I can testify that joining in prayer with other grandparents for my grandchildren is a blessing for me.
For additional information go to http://www.christiangrandparenting.net/prayer or email me at lpenner@christiangrandparenting.net
Will you join grandparents worldwide to get involved in a Grandparents@Prayer group?
Lillian Penner, Prayer Coordinator, Christian Grandparenting Network.