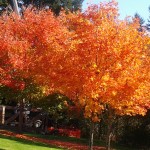 In the Northwest, we are having great autumn weather with the awesome colors, seeing beautiful reds, oranges, yellow and golden leaves. The other day while driving down the street, seeing the beautiful trees I was reminded of the seasons we experience each year and compared them to our lives.
I was thinking that when we are in our childhood years, we are like the budding beautiful blooming trees in the springtime. Then we come into adulthood and we are as the green leaves in the summer time with many of the trees bearing fruit just as many young families bear children.  Then in the autumn season, we harvest the fruit reminding me of when our children are leaving home and we receive the gift of grandparenting. In the wintertime as the trees become bare, we near the end of our lives.
Since I am in the autumn season of my life at this time admiring the beautiful vibrant colors I asked myself:   Does my life reflect the gorgeous red, golden, yellow, and orange colors of a vibrant relationship with you to my children, grandchildren and great-grandchildren?  Ask yourself this question.
God has given us purpose even though we may become limited physically in our autumn season of life, we can be a prayer warrior for our families. They need much prayer as we live in these troubled post-Christian times.
Here are some prayer requests for connecting with your grandchildren:
Ask God to give you opportunities and creative ideas to connect with them.
Ask God to give you unconditional love for them.
Ask God to protect your grandchildren from the deception of the evil one who is trying to steal them from the Lord.
Note: Would you please share your thoughts about this blog in the comments below?
If you are on Facebook, would you like this page and share the post with your friends?
By Lillian Penner