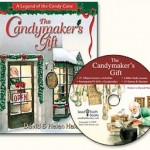 Today I would like to share with you a presentation of The Candymaker's Gift produced by my friends David and Helen Haidle. The Candymaker's Gift is an excellent story to share with your grandchildren during this Christmas season about the real meaning of Christmas. You can show it to them or you can send it to them in an email.
You can listen to it on YouTube at http://youtu.be/OZkiFpfnL1w
The Christmas season is an excellent time to share the message of God's love with our grandchildren.
Helen Haidle, award-winning author of 54 books for children and adults, wrote the first book on the meaning of the candy cane. Helen wrote this fiction story after she had shared the symbolism of the candy cane with her Sunday school students. "The Candymaker's Gift" won a C.S. Lewis Silver Award and a CBA Silver Medallion.
To learn more about David & Helen Haidle's Seed Faith ministry go to http://seedfaithbooks.com/shopexd.asp?id=163. This book is out of print however,  you can listen to the story on YouTube.http://youtu.be/OZkiFpfnL1w
By Lillian Penner