The retail stores are reminding us that Christmas is coming soon so it's not too early to get started with your Christmas shopping. It is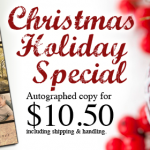 hard to believe that Christmas is only 55 days from now.
Here is an excellent suggestion for the grandparents of your children or your friends who are grandparents. The book Grandparenting with a Purpose will make an excellent Christmas gift for your grandparents or your friends who are grandparents. The book challenges grandparents to pray intentionally for their grandchildren and provides suggestions of how to pray for them.
To learn more about the book, check out the Book, Endorsements and Preview of the book on http://www.grandparentingwithapurpose.com/.
The soft cover book retails for $11.99. However, I would like to give you a special offer during this holiday season of $10.50 including shipping. To purchase the book just click on "Purchase."
E-books are available for those Baby Boomers and beyond who would like to read it on any electronic reading device for $7.69 at Amazon.com.
Lillian Penner, Author