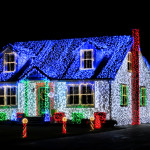 I enjoy candles so during the Christmas season, I love to see the Christmas lights illuminating our homes with candles lit on the mantle or the dining room table, providing a beautiful festive atmosphere. Many of us hang outdoor lights on our houses to share the Christmas spirit with others. I enjoy driving around our neighborhood to see the beautiful twinkling outdoor lights decorating the houses, trees, and displays.
As you, place the strings of lights on the tree or on your house this year enjoying the beauty of the lights in your home and your neighborhood. Think about what Jesus said in Matthew 5:16, "We are to let our lights shine before men, that they may see our good deeds and glorify our Father in heaven." 
How will you illuminate God's love to your family, friends, and your neighborhood during this Christmas season?
What good deeds are you going to do to glorify God this Christmas?
Pray for your grandchildren to let God's love illuminate their world.
 Pray for your grandchildren to glorify God with their good deeds showing their love for Him to others.Will you share how you plan to radiate God's love to your family and friends during this Christmas season in the comments below?
May God bless you richly as you prepare for the Christmas season as you celebrate the birth of our Lord Jesus Christ.
By Lillian Penner
National Prayer Coordinator
Christian Grandparenting Network