Life is full of ups and downs because we are human.  When we remember that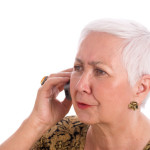 Jesus said, "I am with you" our perspective changes radically. Instead of bemoaning our circumstances we can look to him for help. The reassurance of God's presence and the glorious hope of heaven is the perspective we need
Paul gives us a prescription to combat worry:
"Don't worry about anything, instead, pray about everything. 
Tell God what you need, and thank him for all he has done.
 If you do this, you will experience God's peace which is far
 more wonderful than the human mind can understand. 
His peace will guard your hearts and minds as you live in Christ Jesus." 
Philippians 4:6, 7 
 Are you depressed or worried about your children and grandchildren?
Are you aware that God is with you?
Are you bringing your concerns to Jesus who is sitting at the right hand of God waiting for you to bring your concerns to him?
 Lord, help me not to worry about my children and grandchildren, 
instead, I pray for them to allow God to work in their lives and follow him.
In Jesus' name. Amen
By Lillian Penner