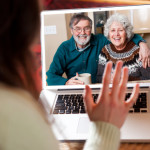 Many grandparents want ideas of how to be involved in their grandkids lives. Today I want to share a guest blog written by Diane E. Butts that I found on the 1 Corinthians 13 Parenting blog." The link is http://www.1corinthians13parenting.com.
Christian grandparents have a deep desire, if not a burden, to make sure their grandchildren know the Lord Jesus Christ as Savior. But often family obstacles stand in the way. For some, grandchildren live a long distance away. For others, the "distance" is less in miles than in faith when your grandchildren's parents are not walking with God. Others must negotiate the challenges of single-parent, divorced, or blended families with visitation rights or children in differing ages groups or from different cultures.
No matter what challenges you face, the God of all knows a way through the obstacles.
Let these ideas inspire you to find ways to influence your grandchildren toward Christ:
Newer technologies like a free account with Skype can bridge long distances giving you "face time" with grandchildren or allowing you to "drop in" during special events such as opening Christmas or birthday presents or hearing a child play her piano recital piece.
Start an open blog with your grandchildren where you can not only carry on a conversation about Jesus but can allow others to take part in the conversation. Free blogs are available on Blogspot.com and WordPress.com.
Make plans to host your own Christian camp when your grandkids come for a day, a weekend, or a week. Pick a theme then find matching resources, including Bible stories, crafts, games, activities, and children's or young adult books. Add an outing to a planetarium, zoo, botanical garden, or other fun spot and talk about the God who created it all and knows each grandchild by name.
Plan a Christ-centered vacation. Take your grandchildren on a special trip to a destination such as the Creation Museum in Petersburg, Kentucky, The Holy Land Experience in Orlando, Florida, or the coming Ark Encounter in Williamsburg, Kentucky.
Remember that above all, prayer bridges any gap—whether distance in miles or in faith.
No matter your budget, time factor, or number of miles separating you, there are many ways grandparents can influence grandchildren toward Christ. If you're the parent, imagine how you might involve your children's grandparents in their lives.
The spiritual legacy you leave will last for eternity.
 Diane E. Butts is  co-author of Grandparenting Through Obstacles: Overcoming Family challenges to Reach Your Grandchildren for Christ. (Available in print from Amazon.com and other outlets as well as on Kindle and Nook.) Her other books include Deliver Me: Hope, Help, & Healing through True Stories of Unplanned Pregnancy and Prophecies Fulfilled in the Birth of Jesus.  For more information visit www.DianneEButts.com  or www.DeliverMeBook.blogspot.com
– See more at: http://www.1corinthians13parenting.com/five-ways-christian-grandparents-can-impact-grandkids/#sthash.ISKyEq37.dpuf