I recently noticed February 17 was National Day of Random Acts of Kindness.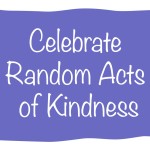 As I was thinking about it the thought came to me that it would be a good idea for grandparents to challenge their grandchildren to do random acts of kindness. Then have them report the act of kindness to us. Wikipedia states, "A random act of kindness is a selfless act performed by a person or persons wishing to either assist or cheer up an individual."
We read in Ephesians 4:32, "Be kind and compassionate to one another." Being kind is being gentle, thoughtful, considerate, sympathetic, compassionate, and nice to others. When we do acts of kindness without an identifiable plan, we are doing it randomly.
My sixteen year old granddaughter was telling told me high school is encouraging the students to do random acts of kindness during the month of February.
Let's challenge our grandchildren to be kind and compassionate to their family members, classmates, friends, and others showing random acts of kindness. They are growing up in a self-centered environment, thinking only of ones self. Let's encourage them to show kindness to others.
By Lillian Penner