I believe grandparents want their grandchildren to have a keen mind, make wise choices, standing strong in their worldlike Daniel. Let's look at Daniel's example.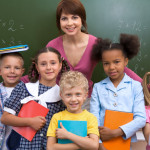 When King Belshazzar and his wise men could not read the writing on the wall at his banquet, the queen suggested that the king call on Daniel to read the writing, since he had interpreted dreams for his father, Nebuchadnezzar. King Belshazzar had heard that Daniel was one of the exiles from Judah who had a keen mind and was very wise. He told Daniel, "I have heard that the spirit of the gods is in you and that you have insight, intelligence and outstanding wisdom." ¹
God used Daniel in a mighty way in a corrupt kingdom because he resisted the enemy and stood firm in his faith, even when he was thrown in the lion's den because he didn't bow down to the king.
Pray that our grandchildren will develop a keen mind, make wise choices, and stand strong in their world like Daniel.
Pray your grandchildren will become men and women of prayer like Daniel.
Prayer
"Lord, I pray my grandchildren and future descendants will be like Daniel.
May You be so clearly evident in their lives
 that unbelievers come to them to discover their secret?
Grant them insight, intelligence, and wisdom."²
In Jesus' name, Amen. 
¹ Daniel 5:14-15
² Jennifer Kennedy Dean, Legacy of Prayer, (New Hope Publishers: Birmingham, AL, 2002 ) p. 105.
By Lillian Penner