I would like to share a guest blog that I found to help parents pray for their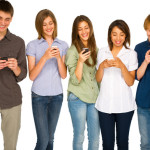 teenagers on the iMOM.com website. Grandparents often ask me, "How can I pray for my teenager?" I think this will be a great resource for grandparents to pray for their teenagers. Check out the website and share with you grandchildren's mothers.
Even if you've never been the type to pray consistently, being the parent of a teenager will take you there! The challenges and risks surrounding your children at this age are great, and the help of a loving Heavenly Father can calm anxious parents and guide adolescents. Below are ten specific ways you can pray for your teen. Download the printable version.
1. Pray for a love for God. Even if your child has been engaged in a personal relationship with Christ from an early age, the teen years can bring confusion and questions. Pray that they wouldn't push back from their faith, but that God would "open my [their] eyes that I [they] may see wonderful things in your law." (Psalm 119:18)
2. Pray for their friendships. Teens naturally pull away from family relationships and focus more on their friendships, making it all the more important that they have the right friends. ("He who walks with the wise grows wise, but a companion of fools suffers harms." Proverbs 13:20)
3. Pray for honesty. Teenagers can face many tempting situations that test their honesty—honesty with you, their teachers, other adults, and their friends.  Pray that they will have the courage to be honest in all situations. ("Better is a poor person who walks in his integrity than one who is crooked in speech and is a fool." Proverbs 19:1)
4. Pray for their protection from drinking, drugs and pornography. An addiction in any of these three areas can ruin a person's life.  Pray that your teen will have the strength and wisdom to withstand these temptations.  ("No temptation has overtaken  you that is not common to man. God is faithful and will not let you be tempted beyond your ability to withstand."  1 Corinthians 10:13)
5. Pray for their purity. Making one's way through the jungle of modern teenage relationships with your purity intact is no small order. You can parent and talk until you're out of breath, but eventually it will come down to a decision your child has to make in a moment alone with a boyfriend or girlfriend. Pray that they will understand the value of waiting, and that God's commands with regard to our sexual relationships are for our own good. ("Flee from sexual immorality. All other sins a person commits are outside the body, but whoever sins sexually, sins against their own body." 1 Corinthians 6:18)
6. Pray for safety. If you've never prayed this one before, it's because your teen hasn't passed his driver's test yet. During these years when you have to let them experience life occasionally without your supervision, fear can be a parent's constant companion. Pray that God will protect your child, and calm your heart. ("I will lie down and sleep in peace, for you alone, O LORD, make me dwell in safety." Psalm 4:8)
7. Pray for their humility. If your child can learn to put others before himself and to see each person as a unique and valuable individual, he will learn humility.  ("Humility and the fear of the Lord bring wealth, honor and life." Proverbs 22:4)
8. Pray for contentment. Adolescence is often characterized by restlessness and a desire for gratification of some sort. Pray that your child will learn to be content with what God has provided for today, and that she won't use discontentment as a springboard into bad decisions. Wise people have the ability to endure and wait on God, even when things aren't perfect (i.e. waiting for Mr. Right, the perfect job, etc.).
9. Pray for their marriage. While it may seem a bit premature, it's never too early to pray for God to bring the right spouse for your child one day. Pray that the husband or wife that God has for your child is growing in wisdom and faith until they are together in a marriage built on mutual values.
10. For their future. Your teenager is amazingly close to a series of important decisions: which college, which major, where to live, etc. Choosing wisely and following through with hard work during young adulthood will have a major impact on their future success and opportunities. Pray that they will listen to God's guidance and make good choices today, so they can enjoy the fruit of those decisions tomorrow. ("For I know the plans I have for you, declares the LORD, plans to prosper you and not to harm you, plans to give you hope and a future." Jeremiah 29:11)
Don't have teenagers yet?  Here are 10 Ways to Pray for Your Child.  You can also pray for your husband with iMOM's 10 Ways to Pray for Your Husband.
"Copyright 2012 iMOM. All Rights Reserved. Reprinted with permission. For more resources for moms, visit iMOM.com."
By Lillian Penner