Last week I shared about the history of Easter traditions. This week I want to share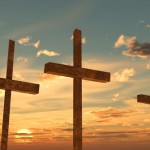 a few ideas for grandparents to share the real meaning of Easter, the death and resurrection of Jesus Christ and some fun activities to do with your grandchildren.
Easter is a great time to connect with our grandchildren, whether they live down the street, across town or far away away.  When was the last time you told your grandchildren you are praying for them? God has given us an awesome responsibility and privilege to have a part in the lives of those dear grandchildren. Our prayers and encouragement can make a significant impact on their lives. Let's make this Easter a special celebration of the death and resurrection of our Lord Jesus Christ for our grandchildren.
Here are a few suggestions you can use during this Easter season.
Send your grandchildren an Easter card with a Bible verse and/or a note that you are praying for them. Grandchildren enjoy getting mail from their grandparents.
Send a CARE package: Easter egg coloring kit, Easter craft, Easter paper plates, napkins, and cups for a family dinner or a storybook with the true meaning of Easter. Of course, Easter would not be complete without some traditional candy.
Email an electronic Easter card (www.dayspring.com has great cards)
Send them "Resurrection eggs". You can purchase them at your local Christian bookstore or online at http://www.christianbook.com.
Make resurrection rolls with grandchildren.
http://www.grandparentingwithapurpose.com/2012/03/an-easter-idea-for-your-grandchildren/
I hope you will have a great time during this Easter season with your grandchildren.
By Lillian Penner