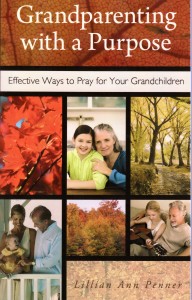 Do you believe God has a design/purpose for Grandparents? Just as David was chosen for his generation God has positioned us, as grandparents for our generation.[1] God chose us, as grandparents for this generation, for our specific children, grandchildren, and great-grandchildren. We are not living in the past or the future generations. God has a purpose for us to love, nurture, and pray for our grandchildren to know and follow Christ wholeheartedly.
Ask yourself what is God's design for me in grandparenting my grandchildren. The book "Grandparenting with a Purpose" will challenge you and give you suggestions to grandparent with a purpose. The book is available on this website for a reduced cost of $10.50 including shipping at this time.
Lord, how do you want me to fulfill your purpose
for my grandchildren and their parents?
In Jesus' name,  Amen.
By Lillian Penner
[1] Acts 16:36