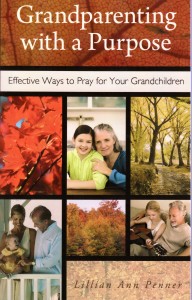 I have an answer for you. I was a frustrated long distance grandparent with little involvement in the lives of my grandchildren. However, God showed me how I could impact the lives of my grandchildren by purposefully praying for them, if they lived nearby or faraway.
God gave me a passion to intentionally pray for my grandchildren. Now I want to share with you five benefits I found in the book I authored titled, Grandparenting with a Purpose: Effective Ways to Pray for your Grandchildren.
Suggestions to imprint another generation with the message of God's faithfulness.
Bridge the distance between me and my grandchildren with prayer
Creative resources to grandparent with a purpose
Examples of Scriptures to pray
How to develop a Photo Prayer Journal
Endorsement: "The best gift that you can give to your grandchildren is the timeless gift of prayer. Grandparenting with a Purpose will encourage you to pray for your grandchildren. It will also provide concrete examples on how to do so. Page by page, you will be inspired to stand in the gap and be a prayer warrior for your loved ones."–Nancy Ann Yeager, author of A Grandmother's Guide to Praying for Her Family and Mother's Prayers for Her Children
This book won't make you the perfect grandparent, however, it will give you resources to grandparent with a purpose. As a result of writing this book I was made more aware of grandparenting with a purpose by the way I live my life and intentionally praying for my nine grandchildren, two great-grandchildren and their parents. I am the National Prayer Coordinator of Christian Grandparenting Network and eager to share these resources in the book Grandparenting with Purpose.
 Now you are at the point of making a decision:
Are you going to learn how you can Grandparent with a Purpose?
 The soft cover book, Grandparenting with Purpose retails for $11.99 plus shipping. At this time I have a special offer of $11.00 including shipping in the U.S. I will include a prayer card of "Suggestions to Pray for Children in School: Preschool, Elementary, High School and college." The eBook is available for $9.95.
To Buy Now: Go to http://www.grandparentingwithapurpose.com click on the Purchase button, complete order form, and the book and bonus will be shipped immediately for orders in the U.S.
For foreign orders purchase the book in eBook form from Amazon or Crossbooks.http://www.lifeway.com/Product/grandparenting-with-a-purpose-effective-ways-to-pray-for-your-grandchildren-P005444545
Lillian Penner
penner@christiangrandparenting.net