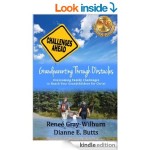 When you find you're competing for the minds and hearts of your grandchildren with the draws of the world, how do you grandparents get into the competition?
In a recent survey I found that one of the most difficult challenges grandparents face today is having a strong desire to influence your grandchildren in a positive way and having the parents oppose you.
The world's evil forces continually pull at us and at our children and grandchildren. It's up to us grandparents to make the most of every opportunity we have with our grandkids, especially if we don't get to see them often. Each time we are together with your grandchildren, be sure to ask the Lord what His will is for that particular visit. He may have steps for you to take in your seed planting that will result in a great harvest.
"Be very careful, then, how you live-not as unwise but as wise,
making the most of every opportunity because the days are evil.
Therefore do not be foolish, but understand what the Lord's will is."
Ephesians 5:15-17.
The most troubling news is that more and more younger non-Christians perceive Christianity in a negative way. It's likely that your grandchildren's friends and classmates will only serve to undermine the spiritual values you've tried to impart. Receiving godly influences from other family will be an important step in your grandchildren's spiritual growth.
However, I have an answer for you if you are being challenged in your grandparenting. The book Grandparenting Through Obstacles by Renee Gray Wilburn and Diane E. Butts will encourage you to effectively influence your grandchildren to Christ. Who knows how your grandchild may impact her generation. The book is available at Amazon.com. (see below)*
Prayer:
Dear Jesus, Enable me to continually walk in Your patience and unconditional love toward my family, and teach me how to stay full of Your joy
so I can persevere through the trials I face.
In Jesus' name. Amen
http://www.amazon.com/Grandparenting-Through-Obstacles-Overcoming-Grandchildren/dp/1938092171/ref=sr_1_fkmr0_1?ie=UTF8&qid=1411653796&sr=8-1-fkmr0&keywords=Grandparenting+through+Obstacles+Dianne+E.+Btts