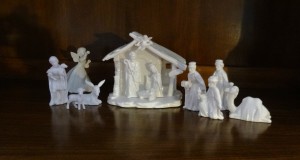 Let's look at the response of Mary, the shepherds and the Wisemen to the birth of Jesus and then look at our own response as we have celebrated His birth.
When the angel said to Mary, "Do not be afraid, Mary, you have found favor with God. You will be with child and give birth to a son, and you are to give him the name Jesus." Mary said, "How can this be, since I am a virgin?" the angel answered, "The Holy Spirit will come upon you and the power of the Most High will overshadow you."
Mary's responded, "For nothing is impossible with God, I am the Lord's servant, may it be to me as you have said."
After the angels announced the birth of Jesus to the shepherds, they ran to Bethlehem, found Mary and Joseph and the baby lying in a manger. Later the Wisemen followed the star and found Jesus and his parents.
The shepherds were so excited they told everyone what they had seen. All who heard the shepherd's story were astonished. The shepherds went back to the fields and flocks, glorifying and praising God.
Mary quietly treasured all these things in her heart andoften thought about what had happened.
The Wisemen followed the star, found Jesus; brought gifts bowed down and worshipped him.
Now the Christmas celebrations are over, the tree will come down soon, the decorations put away for another year.
What is your response to the birth of Jesus Christ?
Are you glorifying and praising God for sending his Son into the world to save our sins?
Are you worshipping the Lord and meditating on His Word?
Pray that your children and grandchildren's response to the birth of Christ will be one of glorifying and praising God for the new life he provided.
Pray they will stand as a symbol of hope in a dark world, adorned with God's strength and beauty.
Don't pack away Jesus with the Christmas ornaments until next Christmas.
By Lillian Penner
Taken from Luke 2:15-20, Matthew 2:1-11.
© 2014 Lillian Penner