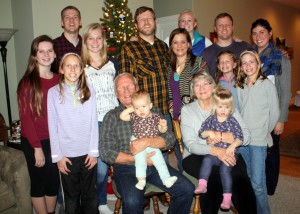 God has placed our children, grandchildren and great-grandchchildren in our lives for a purpose. He has given us the awesome opportunity to partner with Him to be intentional about helping our children and grandchildren to know and follow Christ wholeheartedly. He has given my husband and me, 3 sons, 3 daughters-in-laws, 12 grandchildren and 3 great-granddaughters. He has given you your children and grandchildren to lead to an authentic, wholehearted faith in Christ.
Satan has launched an aggressive attack on all fronts using media, technology, education, social influences and political pressures to desensitize and cloud the boundaries of truth and righteousness that hold nations and families together.
Many of us become frustrated with long distance grandparenting. However, God has given us a powerful tool of prayer. Don't underestimate the power of prayer. When we realize the power of prayer, our faith will increase and it will give us more boldness and confidence in our praying.
We might ask ourselves:
What kind of spiritual impact do I have on my family members?
How do I want them to remember me?
Do my children and grandchildren see Jesus in me?
Are they begging for my Jesus?
On the other hand, do they want nothing to do with my Jesus. 
Just as Esther stood in the gap for her people when their lives were threatened we can stand in the gap for our grandchildren as their lives are threatened spiritually.
"I have no greater joy than to hear that my children and grandchildren are walking in the truth." III John 4
By Lillian Penner