What is a G@P group? A G@P group is a Grandparents @ Prayer intercessory prayer group of grandparents joining to pray for their grandchildren.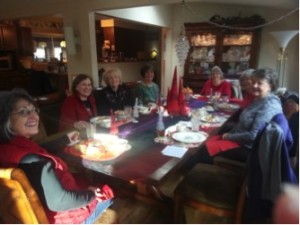 Don't you love the picture of grandmothers coming together to pray for their grandchildren in Oregon.
It's a place where grandparents gather to pray for their grandchildren, sharing their struggles, getting ideas and encourage each other to grandparent with a purpose.
Just as Esther stood in the gap for her people when their lives were threatened we can stand in the gap for our grandchildren as their lives are threatened spiritually.
Perhaps at no other time in our history is a call to prayer more urgently required than it is today. Together grandparents can link arms in prayer for the sake of the next generation.
There are many G@P prayer groups in the U.S., Canada and South Africa. At a church I visited recently there was a group of grandmothers and a group of grandfathers uniting in prayer for their grandchildren in Florida. Yesterday I received a phone call where I learned that a group of eight grandmothers pray together each week in a conference call.
Read the stories from two grandparents who have found the G@P prayer groups benefical.
1. Praying with a group of grandmothers is a wonderful experience… we all have one mindset . . . the salvation, protection, and covering for our grandchildren.
2. Our GAP group that meets once a month is a wonderful support. It has been so nice to get to know other "praying" grandparents and to hear and share our stories and to know we are not alone. What a gift to pray with and for other grandparents and to know they are lifting my grandchildren up in prayer and to be able to share in other's victories and answers to prayer.
Will you make a decision to invite other grandparents to pray with you for your grandchildren?
To learn more about the Grandparents @ Prayer intercessory prayer groups, please go to www.christiangrandparenting.net or email me at lpenner@christiangrandparenting.net.
I have no greater joy than to hear that my children and
grandchildren are walking in the truth." III John 4
By Lillian Penner, Nat'l Prayer Coordinator for Christian Grandparenting Network