The Easter season is upon us and I would like to share some ideas of how grandparents can share the true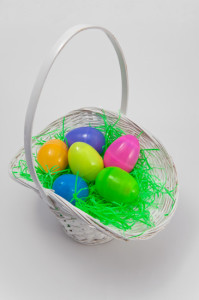 meaning of Easter with your grandchildren.
When is the last time you told your grandchildren you are praying for them? Easter is a great time to connect with our grandchildren and let them know you are praying for them, whether they live down the street, across town or a long distance away. It is essential to communicate to these precious children that we care enough to pray for them.
Here are a few good suggestions you can use during this Easter season
Send your grandchildren an Easter card with a Bible verse and/or a note that you are praying for them. The younger ones enjoy getting mail and the older ones don't mind.
Send a CARE package: Easter egg coloring kit, Easter craft, Easter paper plate, napkins, and cups for a family dinner or a storybook with the true meaning of Easter. Of course, for young children Easter would not be complete with the traditional candy.
Email, text, or send an electronic Easter card.
Send the "Resurrection eggs" you can purchase online or at local Christian bookstore.
Bake "Resurrection Rolls" with your grandchildren while telling them the true meaning of Easter. (See below)
As grandparents, God has given us an awesome responsibility and privilege to have a part in the lives of those dear grandchildren with our prayers and encouragement. Easter gives a special opportunity to share the message of the death and resurrection of our Lord Jesus Christ.
By Lillian Penner
Note: You may purchase Easter books and the "Resurrection eggs" at your local Christian bookstore or online at www.christianbooks.com.
Resurrection Rolls
1 tube crescent rolls
Melted margarine or butter
Large marshmallows
Cinnamon
Sugar
Preheat oven to 350 degrees. Help grandchildren wash their hands before working with food.
Place a sheet of wax paper before each grandchild to use as a work surface. Hand each grandchild a triangle of crescent roll. Tell them that this represents the cloth that Jesus was wrapped in when He was laid in the tomb. Give each grandchild a marshmallow to represent Jesus.
Place a bowl with (warm, not hot) melted margarine or butter in front of your grandchildren and let them dip their marshmallow in it. Explain that the margarine or butter represents the oil that was used to protect and preserve Jesus' body.
Prepare another bowl with cinnamon and sugar. Let each grandchild roll the marshmallow representing Jesus in the mixture. Tell them the cinnamon and sugar represents the spices that were used to anoint Jesus' body for burial.
Wrap the coated marshmallow tightly in the crescent roll. Pinch the sides together; making sure that the dough is completely sealed. Let this step represent the wrapping of Jesus' body after His death.
Place the wrapped marshmallows on a cookie sheet and place in the oven. Bake 10 o 12 minutes at 350 degrees. The oven represents the tomb, while the baking time symbolizes the three days that Christ was in the tomb.
When the rolls have cooled slightly, have the grandchildren open their rolls (grave cloth). They will discover that the marshmallow (representing Jesus) is gone. Christ has risen!
Have fun with your grandkids as you celebrate the resurrection of Jesus Christ.
The Resurrection Rolls recipe was used by permission from Janet Teitsort, author of "Long Distance Grandma," (West Monroe, LA: Howard Publishing, 2005), pages 50, 51.
The book is available on Amazon or you may order autographed copies directly from the author for $12.00 at Janet Teitsort, Touching Hearts, P.O. Box 129, Westport, IN 47283.