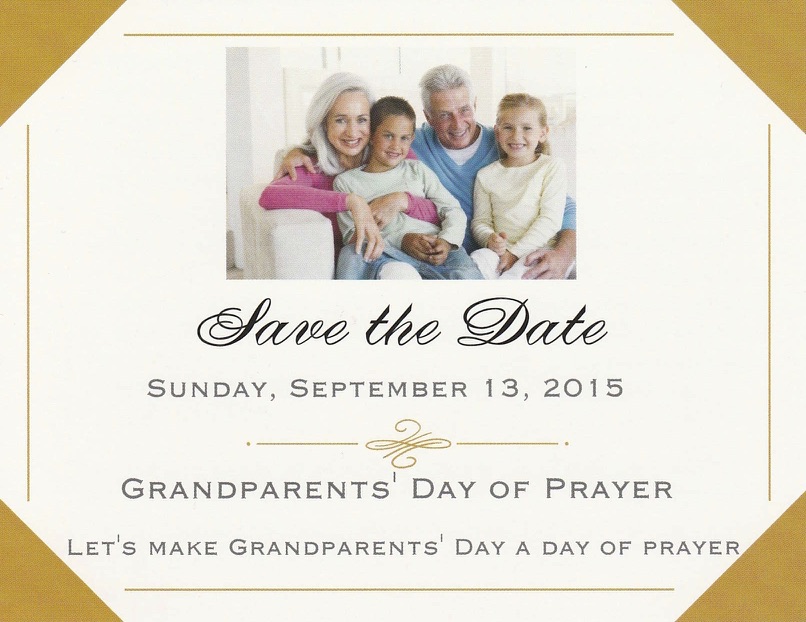 I want to share a special event with you that will be taking place on Sunday, September 13, 2015. Christian Grandparenting Network is asking grandparents all over the world to unite in prayer for their grandchildren on Sunday, September 13, 2015. This date is the official United States National Grandparents Day designated by a Senate proclamation signed by President Jimmy Carter in 1978.
Our grandchildren are living in a desperate moral and spiritual climate navigating in a world hostile to truth. Satan has launched an aggressive attack on all fronts using media, technology, education, social influences and political pressures to desensitize and cloud the boundaries of truth and righteousness that hold nations and families together. Perhaps at no other time in our history is a call to prayer more urgently required than it is today for our grandchildren.
The mission of Christian Grandparenting Network is to promote effective grandparenting, which is intentional about helping our children and
grandchildren know and follow Christ wholeheartedly.
NOW it is calling all grandparents to join in prayer in their churches, community and around the world for an intentional day of prayer on behalf of the next generation.
To indicate participation in the movement or organize a time of prayer for grandparents go to http://www.grandparentsdayofprayer.com. You may find additional information and order promotional resources on the website.
Please email me at lpenner@christiangrandparenting.net for additional information or questions or go to www.grandparentsdayofprayer.com
Please share this blog with your friends.
May God show favor on your grandparenting,
Lillian Penner,
National Prayer Coordinator
Christian Grandparenting Network