Guest Blog by Kathy March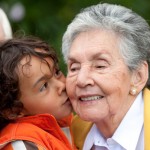 This month, in our book My Grandmother is… praying for me, the focus of the prayers is Generosity. We are praying each day for the Lord to develop the character trait of generosity in our grandchildren. However, on this Mother's Day, my focus is drawn to the generosity of all of the mothers and grandmothers that I know. These mothers often demonstrate generosity by depriving themselves of what they would most like – sleep, new clothes, time alone, a vacation – so that their children and grandchildren might benefit. Proverbs 11:25 says, "A generous man will prosper; he who refreshes others will himself be refreshed." A mother's days are often spent refreshing others; she provides nourishing food and a proper bedtime, gives doses of encouraging words, and offers a listening and sympathetic ear. In turn, her own refreshment comes in the joy of seeing those she loves prosper and grow spiritually, mentally, and physically. 
I remember as a young mother thinking about what I might receive on Mother's Day – a new piece of jewelry, a dinner at a lovely restaurant, a gift certificate to a spa… All those treats sounded so luxurious and indulgent. As an older mother looking back, this is what I remember receiving – breakfast in bed (consisting of a bowl of cheerios and toast), a handful of dandelions, carefully drawn cards filled with sweet messages of love, and an abundance of hugs and kisses. As you can imagine, the gifts I actually received are thousands of times more meaningful to me now than an elegant dinner would have been. They are gifts that came from the heart. 
Mother's Day should be a day to honor the love and generosity of the mothers in this world. My own mother passed down a wonderful spirit of giving and I hope that I have passed that same spirit onto my children. The book of Proverbs has many wonderful descriptions of the blessings that result from a giving spirit – joy, abundance, the Lord's goodness, love, and faithfulness. For me, some of those blessings came through warm hugs and a handful of yellow flowers. 
Happy Mother's Day to all mothers today – may you experience both the Lord's refreshment and joy.    
Guest Blogger: Kathryn March is one of the coauthors of the book; My Grandmother is…praying for me, a daily devotional designed to help grandparents pray for the character development of their grandchildren. The book can be purchased through the website www.mygrandmotheris.com, through Amazon, or in many local bookstores.