The fragrances of holiday scented candles, cookies baking, and the pine Christmas trees are always inviting when walking into the house this time of the year. Recently I was watching the Food channel and they were talking about how different foods bring memories to our minds. The fragrances of baking our favorite cookies, certain foods cooking can remind us of a time and place of the past. The fragrance of a turkey cooking can remind us of going to grandma's house and playing with our cousins, aunts, and uncles when we were young.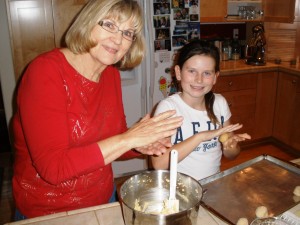 Many family favorite dishes that have been passed on through the generations, like Aunt Susie's Christmas Jell-O salad, your mother's dinner rolls, or grandma's pecan pie bring back memories even though they are not with us anymore. In the picture, you will see my granddaughter and me baking Christmas cookies from a recipe that has been passed down through many generations in my family.
The other day I met a friend at the mall for lunch and then we strolled through several stores admiring the beautiful Christmas decorations. The mall was very festive with the music and sparkling glitter of the season. As we were admiring the beautiful tree ornaments for sale in the stores, she said, "Sometimes I think it would be nice to get all new tree ornaments. But then the new ones wouldn't have memories." I agreed with her because each year as I get our salt dough angels, snowmen, and Santa ornaments my boys, and I painted about 40 years ago it rem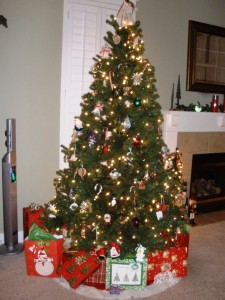 inds me of
those treasured memories.
During this Christmas season, many families will be getting together for their Christmas celebrations consisting of food, gifts, laughter and reminiscing. Let's ask ourselves, "What kind of memories will we leave behind by the way we live our lives before our children and grandchildren.
In her book, Legacy of Prayer, Jennifer Kennedy Dean, writes, "All that I invest in my personal relationship with the Lord will yield a hundred-fold increase and will provide spiritual shelter for future generations" (Mark 4:8). As we invest in our walk with the Lord, we are investing in the lives of our children and grandchildren. One of the greatest gifts we could give them would be the memory of godly praying grandparents.
"Lord, help me to leave positive godly memories for
my children, grandchildren, and future generations?"
By Lillian Penner