Only Nine more days until National Grandparents' Day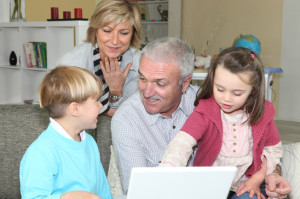 Christian Grandparenting Network is asking grandparents all over the world to unite in prayer for their grandchildren on Sunday, September 8, 2013. This date is the official United States National Grandparents Day designated by a Senate proclamation signed by President Jimmy Carter in 1978.
However, our grandchildren are living in a desperate moral and spiritual climate navigating in a world hostile to truth. Satan has launched an aggressive attack our families, schools and our nation to desensitize our children to truth and righteousness. Perhaps at no other time in our history is a call to prayer more urgently required than it is today for our grandchildren.
Will you stand in the GAP to join grandparents worldwide on Sunday September 8 to pray for the next generation that they may walk in the truth?
To join the movement:
"Like" our fan page,
"Click" on the free download button for your free gift to receive the chapter "Communicate your Faith to your Grandchildren" from the book Grandparenting with a Purpose: Effective Ways to Pray for your Grandchildren by Lillian Penner, National Prayer Coordinator for Grandparents Day of Prayer.
For more additional information and resources go to www.gocgn.com Day of Prayer or contact Lillian Penner, Prayer Coordinator for Christian Grandparenting Network, lpenner@christiangrandparenting.net.
Lillian Penner, Grandparents Day of Prayer Coordinator