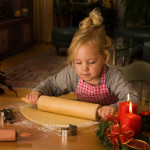 During the Christmas season, we not only enjoy the beautiful lights we also enjoy the smells of Christmas. We enjoy the fragrance of a live recently cut tree Christmas tree when we walk into a house.
            There is also the fragrance of the holiday-scented candles or spicy fragrances of potpourri when we come into a room, or the smell of wood burning in the fireplace. We love the smells of the delicious cookies, candy, and foods prepared in the kitchen, especially during the Christmas season.  
            After several weeks, the strong pine tree fragrance diminishes when the tree gets dry and does not have enough nourishment. Very often, we get busy with life and its challenges and our spiritual nourishment diminishes. Has the sweet wholesome fragrance of Christ diminished in your life? Give God a gift of renewing your heart with His Word so you will leave a life-giving perfume to your friends and family this Christmas. 
            During this busy frenzied Christmas season, reflect on the fragrance you are releasing to others.If Christ lives within you, you will have the sweet, wholesome fragrance of Christ.¹
Share with your grandchildren about the fragrances of Christmas reminding us of God's life-giving fragrance within us when we have a relationship with Him. 
Prayer
Dear Lord, I pray for my grandchildren will have the fragrance of Christ
within them and release it to their family and friends.
In Jesus' name, Amen
By Lillian Penner
¹ II Corinthians 2:15, 16,