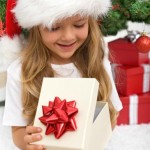 Recently, I was encouraged when a friend shared with me how God was answering the prayers she was praying for her grandchild. I am always encouraged to hear how God is answering a grandparent's prayer for their grandchildren. Many of us have long distance grandchildren and miss involvement in their lives. However, God has given us the gift of prayer so we have opportunity to always pray for them.
The greatest gift we can give our grandchildren is the gift
of a praying grandparent.
I am going to suggest a prayer you can use to pray for them, you may also include it in a Christmas greeting, using the word CHRISTMAS
Give your grandchildren the gift of a Prayer. Pray this prayer and send it to your grandchildren.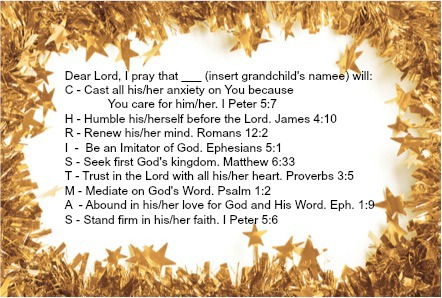 If you join the mailing list for this blog I will send you 31 Scriptures to Pray for your Grandchildren. The form is on the right side of the website.
I hope and pray you will have a blessed Christmas as you share the true meaning of Christmas with your families,
Lillian Penner, National Prayer Coordinator for Christian Grandparenting Network